We can manage your PPC, PPV advertising campaigns
Advertising your website can be an important factor in your business, you can attract more visitors by investing in advertising your website. More visitors means potential customers which will help your business. If you are looking to do a PPC (pay per click) or PPV (pay per view) advertising campaign then you are in the right place.  We can help you with setting up a different advertising campaign on places like:
Google
Facebook
Youtube
Yahoo
Bing
We can also advertise on other well-known or relevant websites.
PPC in San Francisco
PPC is an internet advertising model used to direct traffic to websites. In this case, the advertiser (you) will pay the publisher (typically a website owner) when the ad is clicked. PPC is simply defined as "the amount spent to get an ad clicked."
With search engines;  advertisers typically bid on keyword phrases relevant to the target market and you will have to pay only when your ad will be clicked. Content sites commonly charge a fixed price per click rather than use a bidding system. PPC "display" advertisements, also known as "banner" ads, are shown on web sites or search engine results with related content that have agreed to show ads.
PPC San Francisco – will help you set up, optimize, and configure a google adwards campaign according to a daily budget.
Also if you prefer PPV advertising we can help you to set up different PPV campaigns on places like:
Direct CPV
Lead Impact
Mediatraffic
Trafficvance
PPV in San Francisco
PPV (also called CPV) is an Adware that will pop on other computers. Adware comes from an ad-supported program that a user installed onto their PC, which they agreed to have when they installed the software. PPV allows you to not only bid on keywords but also domains (urls).
So what's so good about PPV? It is really good to use PPV because with a small investment as little as   $20-$30/ day you can have your products/offer or website to pop on your competitor's website. And you may get targeted traffic/clients if you do this type of advertising.
Based on your budget we can set up advertising campaigns.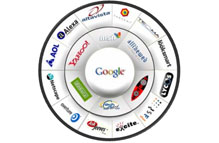 This is what we do when we set up the campaigns:
1) Look to see what relevant keywords can be used on your website to get more costumers
2) Study your competitor's keywords
3) Bid on keywords that have lower competition with a good bidding price
4) Create different variations of your add
The Process
The online marketplace opens up so many new opportunities and potential windfalls for us. Unfortunately, for everybody out there who does well online, there is another way to get tons of targeted traffic for your website in a short amount of time.
PPC advertising is one of the key contributors to this type of marketing – it is very much a double-edged sword. While it offers incredible results when done well and is more than affordable as it brings you high paying traffic that converts when done wrong it can be catastrophic. You can lose a lot of money trying to figure out how to set up your ad campaigns right.
PPC marketing can be done through Facebook, YouTube, Bing, Yahoo, and Google mainly. Running campaigns through these sites is the most common way of doing PPC marketing. PPC marketing stands for "Pay-Per-Click" and the process involves putting your website in front of anybody who might find it interesting when they are using the website you are advertising through. If they click through to your site, it costs you a pre-determined amount.
While they may stay and buy thousands of dollars' worth of products, they may leave costing you money for nothing. This is why mastering your site and ensuring that your PPC marketing covers the same message and style as the rest of your site. Having marketing methods that sing from different hymn sheets is never a good thing.
Advantages/Disadvantages
This is why we offer such a comprehensive PPC advertising service. By working with us, you can establish an easy to manage pay per click campaigns. We take care of everything involved in the PPC advertising process from establishing the right keywords, writing the advert, and even managing your monthly budget amounts.
With our help, you can stop anything you cannot afford or predict from happening. This stops any costs you simply cannot imagine coming through due to a poor PPC campaign occurring. It also stops you from spending too much time or money on a campaign that is not suited to your business and its needs.
With years of experience in the PPC game, we can pick the right keywords, the right times to advertise, and the fairest budget possible. This will stop you from running into any brick walls with regards to finance.
So why not let us manage your PPC campaigns for you? They bring in targeted traffic that is looking for what you offer. Once they arrive at your website, your quality content and unique website design will do all of the selling for you – it's just about bringing the right people to your website to make the type of profits that you are looking for!
Don't hesitate to get in contact with us and we will set up your PPC or PPV campaign. Call our PPC San Francisco department today!