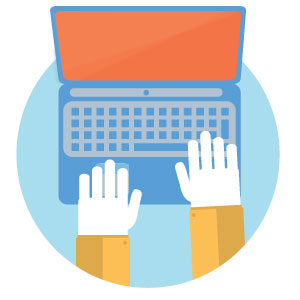 Did you ever wonder what makes a site truly successful on the internet? The truth is that having a successful website is a fine balancing act between pleasing two opposing parties. In order to get the most traffic and the best conversion rates for your company, you will need to make sure that your website is optimized for search engine crawlers, but still make it user friendly enough for the people who actually click on the links and visit the site.  We have already gone over why it's important to have a site that has been optimized for search engines (read article here), but we haven't gone over why it's important to strive for a more human balance. This section will explain why in detail.
In many cases, especially when you use old school SEO techniques, it's easy to please search engine crawlers and get loads of hits…at the expense of your users' experience. Common SEO tactics can cause a site to be overclogged with walls of text filled with keywords, too many links, and too many updates on social media.
This can easily overwhelm users who just want to look for simple information on your company's home page. Too many links, or a confusing site layout that is built for SEO crawlers instead of actual people, can detract from a user's experience. Similarly, a site that has too many SEO widgets installed might end up loading very slowly, which in turn, may aggravate users. Working to get crawlers to pay attention to your site and promote it at the cost of user experience, will likely lead to loads of little problems with the site's usability.
Get returning visitors to your website!
These little things may seem like minor issues at first glance, but as the old saying goes, everything counts in large amounts. Site users who have negative experiences with a particular website are less likely to visit it in the future, and way less likely to recommend it to a friend. Poor quality sites will almost always be overtaken by sites that focus on a more human-oriented approach to site optimization. Moreover, having a low quality site that doesn't really cater to human visitors is also linked to having lower sales conversion rates, and a generally poor internet presence. Worse still, having a poor online presence will also influence buyers to buy from competitor stores, even if the sale is done face-to-face. Is having a (temporarily) highly ranked site really worth sacrificing your own customers? We don't believe so.
Create quality content for your website
Along with the fact that people will not likely enjoy your site if it's optimized only for crawlers and not for human beings, there are many, many indicators that suggest that the internet search engines are going to increase their focus on user experience as the years continue to pass. Much of this trend can be seen in Google's recent overhaul of its entire search engine algorithm. By scrapping the heavy emphasis on keywords, and promoting the importance of social media, Google clearly made a stance that they are looking for quality content for users instead of quality content for crawlers.
The future of search engine algorithms will be one which is driven by content quality and popularity among people – not the number of keywords that are jammed into a company's main home page. Even with the trend just emerging, it has had a profound effect on a multitude of well known sites. Many major sites have taken a huge hit in search engine rankings with the new overhaul, so one can only imagine what the wrong focus can do to a budding website.
 Always optimize your content
However, as important as a human focus is to any website, it's also still important to incorporate SEO into your site's development. After all, if you don't get crawlers to examine your site, you will not likely end up getting any visitors to marvel at how wonderful your site is.
The vast majority of traffic that any site receives is gotten through search engines. After all, when you're searching for a local business or looking for a question, don't you simply search the internet most of the time? Making an impression on search engine indexers, therefore, is still a priority that needs to be addressed by any webmaster with aspirations of having a popular site.
The bottom line is that you do have to walk a very fine line between pleasing people and pleasing search engines. Instead of the heavy handed approach to SEO that site owners were once expected to have, it's now much more advisable to have it be a very gentle, very subtle push in many respects. And, since algorithms have changed to make it a much more user-friendly world out there, it's easy enough to have a decent balance between the two without upsetting engine crawlers too much.